Decluttering Boot Camp
A 6-week coaching group for people who are serious about getting their stuff under control.
Join Linda for this teleconference group. Plow through your clutter and establish new strategies to help you stay on top of your stuff.
Group size is limited to 5.

Class meets weekly by telephone for one hour. Sessions are recorded so if you miss a week you can listen later at your convenience.

Linda provides her support and expertise

as a life coach specializing in organization, time management and goal setting. She'll provide guidelines and teach techniques for controlling your clutter.
Each participant will set daily goals (including days off), which can be as little or as much as he or she has time for. Participants move at their own pace, each deciding how much they can commit to every week; there is no right or wrong amount.

Regular email check-ins ensure accountability

and keep members motivated. Members will support each other in their progress, sharing success stories and ideas.
Tuition includes a copy of Linda's book, The Joy of Getting It Done. Note: there will be some reading assignments from the book for this class.
6 meetings, $199 ($179 for early enrollment)
Contact Linda for information about upcoming dates.
Before...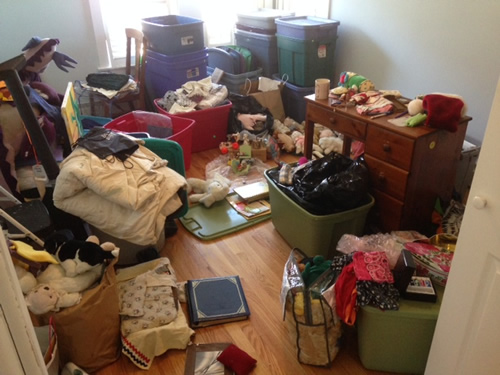 After...

Before and after photos by Nancy D., Decluttering Boot Camp Participant

Testimonials




"This was the best money I've ever spent! I used to see myself as so hopeless. I really feel like it's changed my life, and I have so many more tools now at my disposal."
~ Nancy D., Stoneham, MA

"Doing this definitely came at the right time for me! The Boot Camp was a very good combination of techniques, guidance, and peer support for me to get piles and things in "stuck" areas in my house moving again, and I'm still at it!"
~ Susan, Boot Camp Participant, Winchester, MA

" I thought this boot camp was going to be about clutter but it turned out to be about life and how to have more room for the things I really want in my life."
~ Catherine K., Boot Camp Participant

" Decluttering always got the best of me in the past. Setting specific lengths of time to deal with the clutter and working on it when it fit best during my day gave me a sense of control."
~ Boot Camp Participant, Bedford, MA