Individual Life COaching
Why Life Coaching?
People usually come to a Life Coach to make changes they are having a hard time achieving on their own. Changing can be difficult, and Life Coaching offers support for successfully achieving goals. Coaches specialize in different areas, from wellness to careers to helping people find and live their dreams.
My specialties are time management, organization, and setting and reaching goals. I say, "It's hard to realize your dreams if you can't find your socks!"
Many of my clients find success by simply employing my strategies, systems and techniques to organize the logistics of daily life.
Sometimes, however, even the best plans fall apart. In these cases, I help clients explore underlying feelings, mindsets and beliefs that get in the way of achieving goals.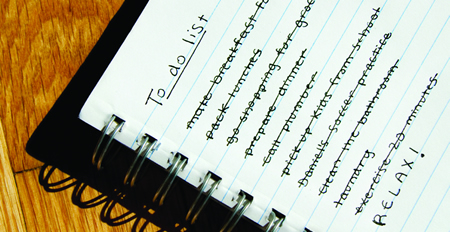 What is Life Coaching?
Life Coaching is a collaborative process. A Life Coach guides clients to make choices that result in living more mindfully and using time more effectively.
I help my clients look at life's logistics, determine what is working and, importantly, what is preventing them from meeting goals. Together, we create a customized approach for tackling problem areas, allowing clients to regain control of their lives.
Many of my coaching clients have either been diagnosed with, or suspect they have, ADD/ADHD. Regardless of whether or not they have ADD, many people experience ADD-like symptoms in some area of life. It's for this reason that I am trained in both Life Coaching and ADD Coaching.
I meet with clients by phone. This saves the hassle of having to travel to one more place during an already busy day.
In our first meeting, we identify overall goals for the coaching process. We address strengths and past challenges before setting concrete goals and deadlines for the first 6 months. These goals can be modified over time, but are an important starting point and something to work toward.
After the initial meeting, we'll speak weekly or bi-weekly in 30- or 45-minute coaching sessions. Clients set the agenda for each session, usually in line with the 6-month targets but coaching can also cover other areas.
Some clients need help simply establishing a plan to meet their goals. In such cases, we work together to develop a realistic, workable plan of action. It's not always so simple, though. If a client gets stuck, I help by digging deeper to uncover obstacles, mindsets and beliefs that get in the way of achieving goals.
The ultimate goal of Life Coaching is to help clients understand themselves better, respect their own time, and approach problems from a position of knowing their strengths and challenges.
How can I know if coaching would be helpful for me?
Sometimes it's easier to actually do some coaching than try to describe it. I offer a complementary phone appointment to anyone interested in exploring whether coaching could be helpful to them. During the session, I talk about what I do as a coach, answer any questions, and then do some coaching around a sample issue. The meeting usually lasts around 30 minutes.
Interested in scheduling a complimentary session? Contact me.

Do You:

Feel disorganized?

Use time ineffectively?

Struggle to keep up with personal tasks and to-do's?

Waste money as a result of being disorganized?

Squander hours on the Internet?

Wonder what happened to those - New Year's resolutions?

Find life running you instead of the other way around?

Want to make a change but don't know where to start?
Testimonials

"My weekly session with Linda has become my favorite part of Tuesday mornings. Her professionalism, wisdom, and keen insights have helped me be more self-aware and open-minded and actually make things happen instead of just thinking about them."
~ Ryan, New Jersey

"Linda is an expert listener. A rare find and a gem. Her ability to zoom in to the 'heart' of a problem makes her an invaluable resource. I have benefited many times from her practical suggestions, her insightful wisdom, and her positive spirit and warmth."
~ Melanie, Winchester MA

"Working with Linda was very beneficial. She provided me with various simple techniques to improve my productivity and helped me raise my self-awareness when I strayed from the task at hand. Little time is wasted in the weekly meeting. She uses the Focus Form as the agenda and drills down to the issues you are facing. Linda is firm but empathetic. I've made great strides since beginning work with her."
~ E.M., North Reading, MA